Meet Our Veterinarians
Meet the veterinarians of Guelph Animal Hospital.
Dr. Ilana Smolkin DVM
Dr. Smolkin grew up in Toronto with her parents, 2 brothers, and a miniature poodle named Princess. From a young age, she stated to her parents her intent to become a veterinarian and work through high school and university to realize that dream. She moved to Guelph to attend the Ontario Veterinary College and graduated in 2003. During school, Dr. Smolkin acquired her 2 cats: Ella and Bennett who are still with her today.
Her first year after graduation, Ilana did an internship at a speciality and emergency clinic in Memphis, Tennessee. There she learned a lot about medicine and cancer treatments for pets as well as BBQ and Blues. Six months in, while working an emergency shift, she was brought a sickly 3 week old puppy that was found tied up in a plastic bag. She agreed to foster the pup until old enough for adoption. Mackenzie never left her side until the end.
After a year in Memphis, Dr. Smolkin returned back to Ontario and has been at the Guelph Animal Hospital since. She lives with her husband Carlos, daughter Robyn and her current crew of furry children: Nacho, Dos Equis, Ella and Bennett.
Through the care of her dog Mackenzie, Dr. Smolkin learned the value of integrative care. Mackenzie's health issues stumped specialists and had no diagnosis in western medicine. The only agreement the specialists had was that Mackenzie's condition was serious and she might not live out her 5th year till the end. Through an integrative approach, she was able to keep Mackenzie happy and healthy until over 13. She is certified through the College of Animal Chiropractors in the human world and would be known as a Chiropractor however in Veterinary medicine the term is Manual Therapy Specialist. In 2014, she added training in bioregulatory medicine and homotoxicology with the College of Integrative Veterinary Therapies. In 2016 she completed training in Western herbal Medicine and was part of the first class to be certified in Animal Normalization therapy which are osteopathic techniques for animals. Most recently in 2017, Dr. Smolkin has become certified in Traditional Veterinary Chinese Acupuncture. She enjoys working with her ever-talented Agility patients making sure they compete at their best as well as helping senior patients stay as comfortable as possible. She has found her passion in using an integrated approach to treat all sorts of health issues or as preventative medicine.
Dr. Renee Fleming DVM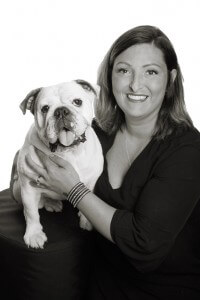 Dr. Fleming first joined Guelph Animal Hospital as an associate in 2006, and she was welcomed as partner in 2009. She grew up in a small town north of Guelph (Hanover) and has made Guelph a permanent home since 2000.
Dr. Fleming attended the University of Guelph, graduating with her Bachelor of Science in Biomedical Studies in the fall of 2000, and she started the Doctor of Veterinary Medicine program at the Ontario Veterinary College that same year. Dr. Fleming has always had a passion for exotic and wild animal medicine, and during veterinary school traveled to South Africa for a few months to assist with Dr. Markus Hofmyer at Kruger National Park. She has assisted with the medical care of African elephants, white rhinoceros, giraffes, lions, and many antelope species. One of her fondest (and most terrifying) memories from that trip was monitoring an African lion as it recovered from sedation after being tested for tuberculosis. She learned that lions can startle quickly upon recovery from anesthesia!  One of her most memorable experiences from that trip was the sedation of a white rhinoceros that had been caught in a poaching trap.  She sustained a deep and badly infected wound on her limb, which Dr. Hofmyer was able to treat.  To be able to assist in her care – such a giant and majestic animal – was so memorable and humbling.
Her taste for adventure has not lessened over her years in practice. She and her husband both enjoy traveling, and the more remote the better! Most recently, Dr. Fleming and her husband successfully reached the summit of Mount Kilimanjaro( 5,895 m) in Tanzania, Africa! After the climb, the Fleming's traveled to Zanzibar, a small island off the coast of Tanzania, where Dr. Fleming volunteered to perform spays and neuters for the community of Stone Town with the World Society for the Prevention of Cruelty to Animals (WSPCA).   The surgical suite was a trailer fully equipped with sterile equipment, but quite different from the surgical suite at Guelph Animal Hospital!!  All animals were anesthetized with an injectable anesthetic (vs an inhalant anesthetic that we use here in our hospital) so Dr. Fleming has lots of experience being quick with her surgical procedures!
Dr. Fleming spends much of her time volunteering with a focus on animal and children-based charities.  She has traveled to Nunavut and Turks & Caicos with the Canadian Animal Assistance Team (CAAT) to participate in spay/neuter/vaccination/deworming programs.  She will be traveling again to St. Lucia this spring to participate in a large spay/neuter program (again with the Canadian Animal Assistance Team).  These volunteer trips are very important to Dr. Fleming, who feels strongly that professionals should contribute back whenever and wherever they can.  She has spayed or neutered over 400 animals as part of various volunteer programs.  She also volunteers locally for the Children's Foundation for Guelph & Wellington (CFGW) and our entire hospital avidly donates regularly to CFGW events.
While at the Guelph Animal Hospital, Dr. Fleming can be found tending to anything with fur or scales. She sees the majority of our small mammal patients (rabbits, ferrets, rats, chinchillas, lizards etc.) and treats them with the same caring and compassion that she does our dog and cat patients. Her most avid area of interest is pain control – both surrounding surgery and for chronic conditions such as arthritis or cancer. She is currently working on her certification for the International Veterinary Academy of Pain Management (IVAPM), as well as her acupuncture certification. In addition, Dr. Fleming is our Emergency Care Specialist. She has over 9 years of experience working at a busy after-hours emergency hospital.
During quiet times, Dr. Fleming can often be found cuddling with a post-operative patient as they recovery from surgery.  She also has special affinity for pets with 'squished' faces – she is our resident bulldog expert!  She has owned both English and French bulldogs and will (hopefully) never be without one in her family.  Dr. Fleming has bulldog patients from Toronto to Windsor and adores them all!!  If you are not aware, the short-nosed breeds are prone to a variety of health conditions (they can have airway/breathing difficulties, dental abnormalities, and a variety of other concerns) and she is dedicated to educating pet owners about their health risks and assisting in preventative care to help ensure a lifetime of health and happiness.
Dr. Fleming and her husband John share their home with a very spoiled mix of critters!  Currently, they have Eleanor Bee (or Ellie) – a lively 3 year old English Bulldog – and 3 cats:  Mu, a gentle 14 year old kitty, Maui, a handsome & cuddly 6 year old  kitty, and Ragnar, a spunky 2 year old Sphinx.  All of Dr. Fleming's cats were rescues, with Maui needing the most intensive treatment – an extensive surgical repair to his diaphragm and his hip after being hit by a car.  They also extended their family to include the two legged sort – they have two boys – Ewan (aged 4) and Asher who is one year old.
Aside from traveling and spending time with her two and four-legged family, Dr. Fleming loves running, boxing, and manages to make quilts in her spare time.  She couldn't imagine herself in any other profession, and you can trust that she will treat your pets with the same love and attention that she does her own.
Dr.Meredith Geldart DVM
After 10 years of veterinary practice in Caledon, Dr. Meredith Geldart was excited to join the caring team at Guelph Animal Hospital.
Dr. Geldart hopes to contribute to the team via her professional interests, including internal medicine, soft tissue surgery, anesthesia, radiology and pain control. She hopes to give back to the community with her work as a member of the College of Veterinarians Discipline Committee and volunteering with Community Vet Outreach in Guelph.
Like many kids, she always knew she wanted to be a veterinarian. It just made sense for her to pursue a career to try to repay animals for all the ways they brighten our days. Dr. Geldart's goal has always been to help sick pets feel better and keep healthy pets happy so they can have as much quality time with their families as possible.
During her time at OVC she worked with shelter animals at the teaching hospital, where she found her beloved Rotti, Mackenzie. Sadly, Mackenzie recently passed away, but this left a space her newly acquired geriatric rescue cat, named Peppa Susie Sheep Catty Batty by her very creative 3 year old.
Dr Geldart is busy outside of work with her 2 boys and husband Christian. Any free time is spent petting neighbourhood kitties with her kids, chasing backyard bunnies, running and playing soccer.
Dr. Jen Perret DVM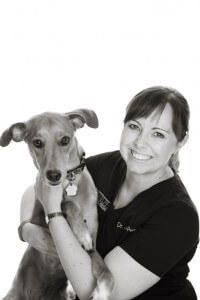 Dr. Jen Perret joined the practice to cover a maternity leave in 2013, and has been at Guelph Animal Hospital ever since. She is a 2009 DVM graduate of the Ontario Veterinary College, and also completed her PhD in Epidemiology there in 2020. She has worked at a variety of general and emergency practices throughout southern Ontario as a relief veterinarian, as well as a brief stint in the UK, and is happy to have settled back in Guelph.
Dr. Perret has been passionate about animals and biology ever since she was a child, and was prone to bringing home any number of animals – from garter snakes to flea-ridden kittens – and considers herself extremely lucky to have had supportive and understanding parents! She has had a variety of pets including aquarium fish, turtles, budgies, hermit crabs, mice, and cats. Currently, her furry family members include 6-year-old Dobby (a potcake dog from Saint Lucia with congenital liver disease), and 2-year-old Pekoe (a small mixed breed from the Texas Chihuahua Rescue). Although Dr. Perret has no feline roommates at the moment, her extended family includes two 4-year-old kitties who were fostered right here at Guelph Animal Hospital when they were only three days old.
Dr. Perret is passionate about preventative medicine and fear-free handling of her patients. She likes to keep abreast of current recommendations for immunization and infectious disease prevention in dogs, cats, and zoonotic risks to their human families.
Dr. Amanda Palmer DVM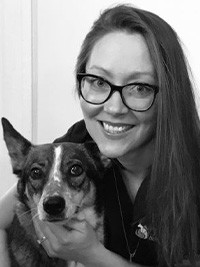 Amanda's motivation to become a veterinarian originated from childhood. She grew up farming in rural Huron County, riding horses, and raising livestock, among many cats and dogs throughout the years. At the age of 10, she knew her passion was animal health and welfare. After graduating from the University of Guelph with an Honours BioMedical Sciences program in 2007, she ecstatically enrolled at the OVC, and after four enthralling years fulfilled her lifelong career ambition, graduating in 2012.
As a new graduate, Amanda filled a position in Tillsonburg as a mixed animal practitioner, treating dogs, cats, sheep, goats, cattle, horses, pot bellied pigs etc. Over the next three years she developed more interest towards equine and small animal medicine and surgery. The following year she was able to hone in on those areas of interest between two clinics, working part time at each. After a year of juggling two positions in equine and small animal practice, she felt that small animal practice was where she excelled. She had been working exclusively with companion animals for the next 4 years and extremely happy with the career move.
Amanda enjoys all aspects of veterinary medicine and surgery. Employing a fear free approach, she advocates weight management and preventative medicine, keen to discuss behavioural concerns, enjoys dermatology, dentistry and soft tissue surgery to list a few. She's compassionate and empathetic and wants what's best for your pets.
Amanda happily lives in Guelph with her husband Ryan, and their two boys, Benson and Simon. They have two rescue pets, a beautiful and feisty black cat, Sammy and a fabulous high energy, mixed breed dog, Brooklyn. Who happens to be her most reliable and enthusiastic running partner.
Amanda joined us while on maternity leave to expand her clinical experience and simultaneously work closer to home and family.
Dr. Sherry Ekstrom DVM
Like many others in her profession, Dr. Sherry Ekstrom has been an animal lover her entire life. As a little girl she would try to sneak neighbourhood cats into her house, something that her very allergic mother and hypervigilant family dog, did not really appreciate. She talked about becoming a veterinarian since she was 4 years old and after many years of school, including a Bachelor of Medical Science in Physiology at the University of Western Ontario, graduated with her Doctor of Veterinary Medicine degree from the Ontario Veterinary College in 2010.
While enjoying many aspects of veterinary medicine, Dr. Ekstrom has developed a keen interest for internal medicine, dentistry, dermatology and pain management. In December 2018, she became a Certified Canine Rehabilitation Practitioner and has applied this special skill set not only to post-operative patients, but also dogs and cats with acute and chronic orthopedic and neurological issues. Seeing her patients improve and get back to doing what they love is something Dr. Ekstrom will never get tired of.
When she is not working, Dr. Ekstrom keeps busy with her husband, Brad, and 2 young sons. She loves reading, working out, hiking and traveling. No veterinarian's life would be complete without "furry family members" and Dr. Ekstrom shares her home with a cat, Gabriel, who stole her heart as a rescue and Goose, a goofy rescue beagle who has taught us all about patience and the importance of taking time to stop and smell every single blade of grass you find.
After practicing for the last 10 years at a small animal practice in Caledon, Dr. Ekstrom is excited to be a member of the awesome team at Guelph Animal Hospital and is looking forward to meeting you and your furry families soon!
Dr Kirstie Puskas DVM
Dr. Kirstie Puskas knew she wanted to become a veterinarian from a young age and has spent many years achieving her goal. She grew up in Waterloo, Ontario and moved to Guelph to complete her Bachelor of Science degree in Biomedical Science at the University of Guelph. After completing her degree, she was accepted into the Ontario Veterinary College and graduated in 2014. Since graduating, Dr. Puskas has worked in small animal practices in south western Ontario and spent a few months working in Whitehorse, Yukon.
After a short time away, she moved back to Guelph with her husband. Dr. Puskas is very excited to join Guelph Animal Hospital and work with a great team. She is also happy to be working close to home. Dr. Puskas enjoys working with owners to provide the best possible care for their pets. She has a special interest in surgery, anesthesia and preventative medicine.
Dr. Puskas and her husband have two sons and share their home with Hunter, a bluetick coonhound. When not working, Dr. Puskas enjoys many outdoor activities with her family including mountain biking, running, cross country skiing and camping.